who are we?
ENJOY WINE
We are Eva and Svetlio - dreamers on the topic of Bulgarian wine. The fastest way to fall in love with wine is to visit it. And that's exactly what we did. Our first wine tours were in 2013 and will remain as the brightest memories of wonderful experiences.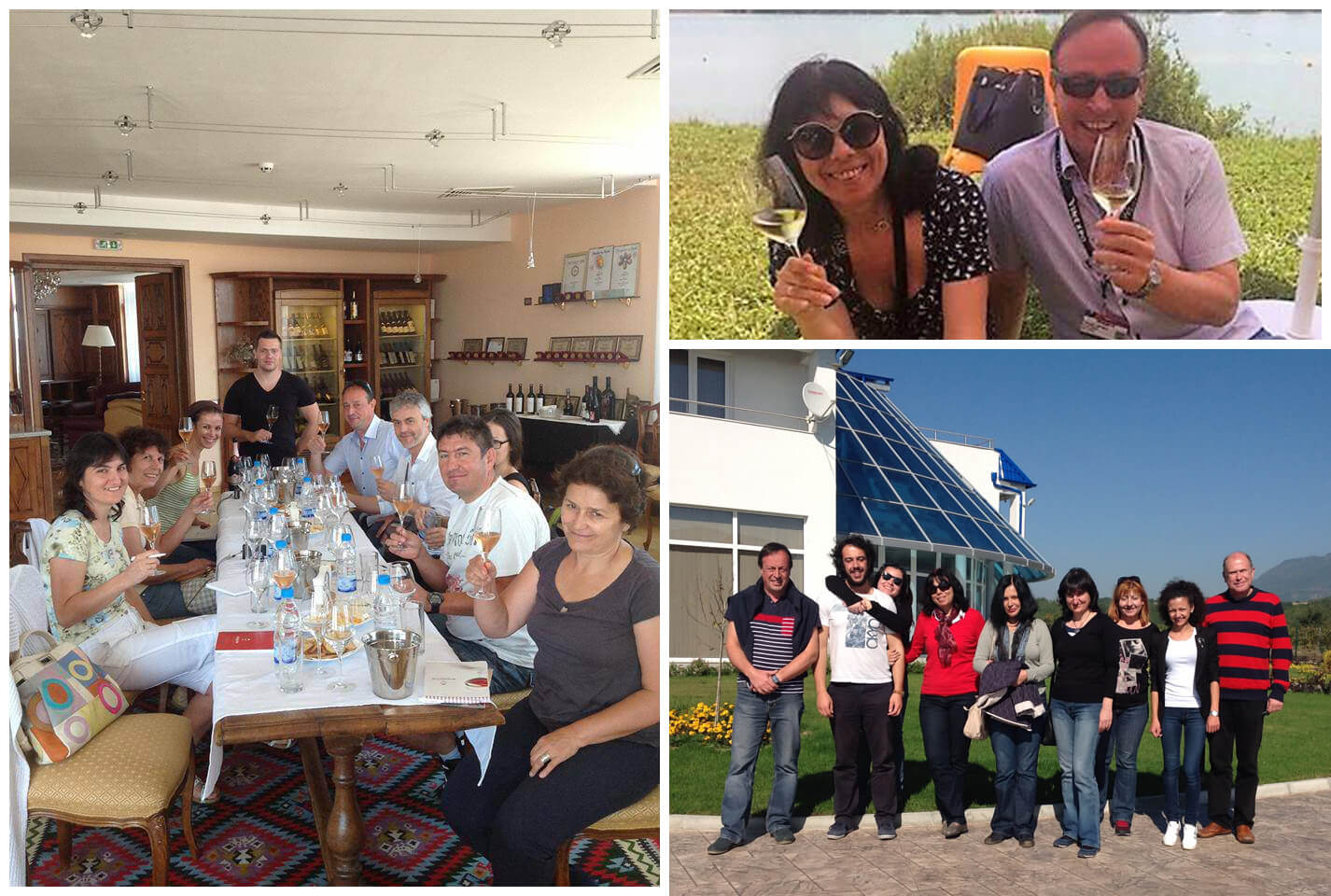 The beginning – 2010
/ Four years before EW /
FRANCE WAS THE BEGINNING

We, Eva & Svetlio are working for more than 15 years with foreign partners as many of them are from France. In partnership with french folks you eventually start to discuss food and drinks – local, foreign, virues and qualities. One of the first things we learned was the way you should taste wines. We can be very consistent and it was matter of time until we gained experience by trying many, many wines! Our family consists of ingeneuers and it was only natural that the whole tasting process provoke us to get more advanced knowledge in winemaking. As you are aware man can gain knowledge about wine in many ways and so we did – lectures, wine tastings, sommelier lessons, academic education in Plovdiv ULT, forum visits, master clasess in Bulgaria and abroad about wine, wineries visit in Bulgaria, Germany, France, Italy, Macedonia etc. Totally natural came the next step – to share out passion and experience. For us the wine universe is beautiful emotion. Then we created the EW project in order to reach as many people as we can!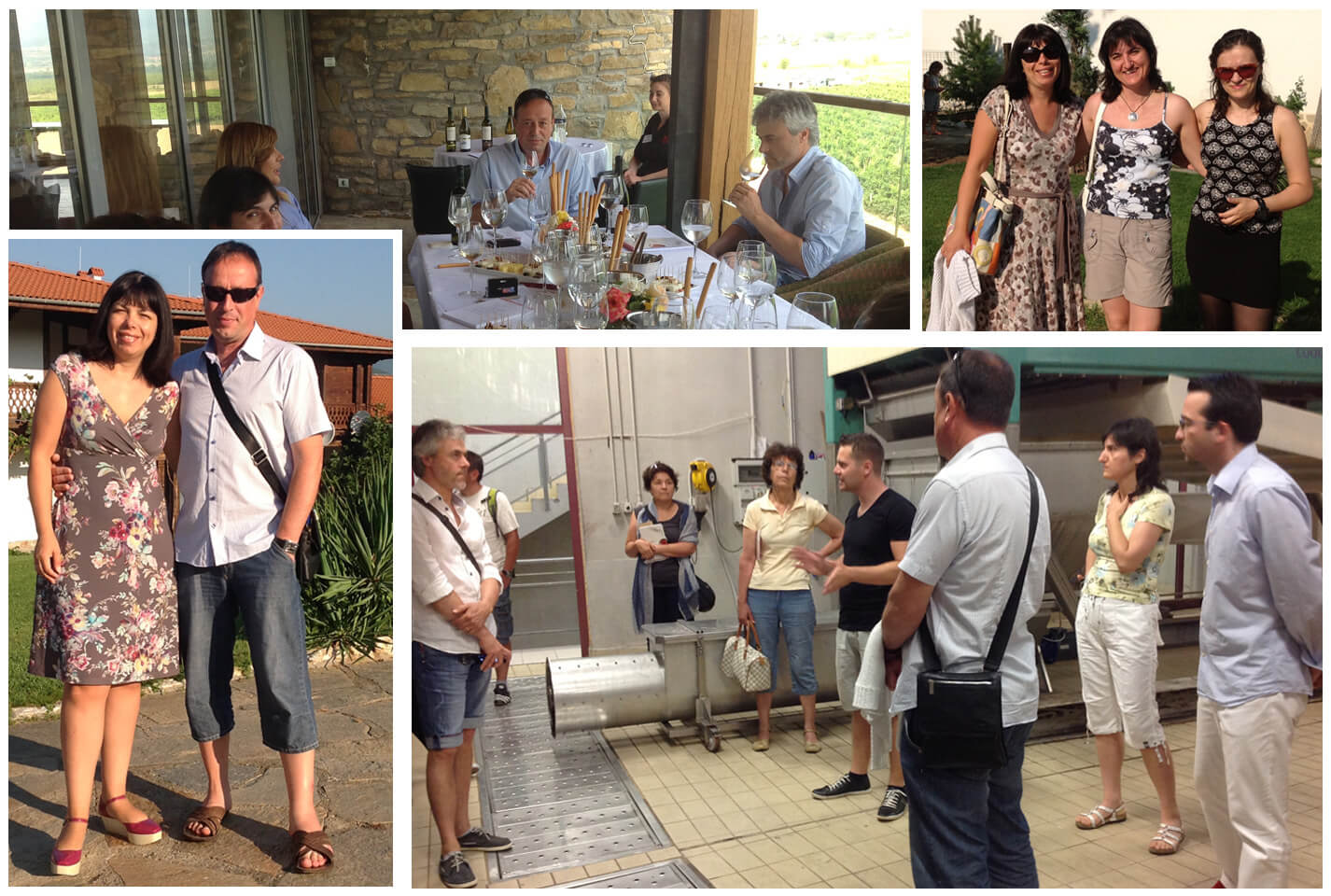 The fist wine tours – 2013.
/ EW brand registration /
GREAT WINE IS MADE IN BULGARIA

The fastest way to fell in love with the wine is to visit it. And that's exactly what we did. Our first wine tours were in 2013 and will remain as the brightest memories of wonderful experience. In each winery we were warmly welcomed, and on departure we were happy (not only because of the tasted wine). Then we made several decisions – we will definitely make wine tours in future, we will monitor and distribute Bulgarian wine and we will combine these activities under the brand "Enjoy the wine" but since it was too long in Bulgarian, and we would like to work mainly with foreigners, to whom we can show "The New Face of Bulgarian Wine" – "EnjoyWine" or EW was born.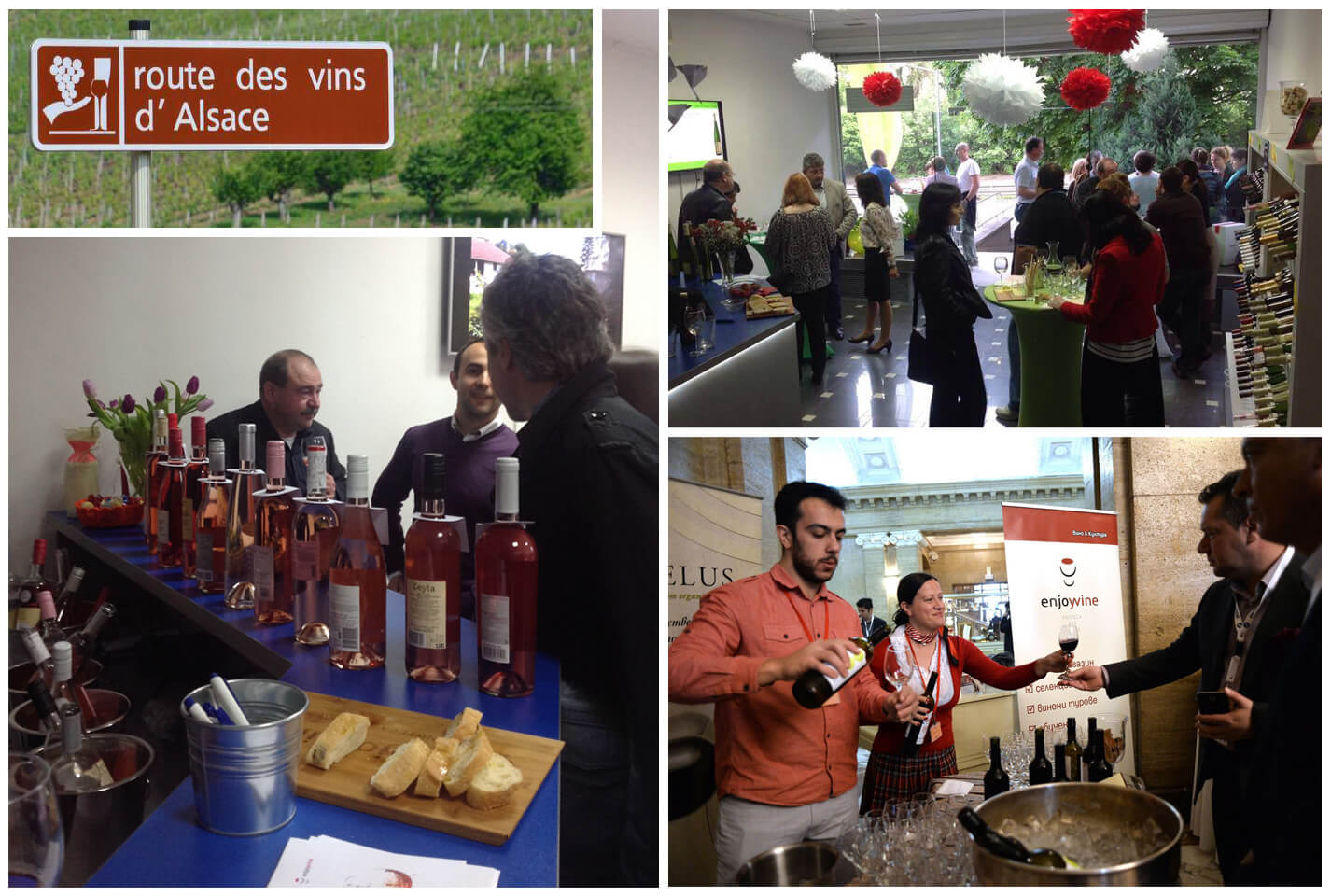 Fist tastings – 2014
/ partnership with Economedia /
EW FIRST STEPS

A year passed. We presented Bulgarian wine at business forums organized by Economedia, conducted trainings for wine tasting at doctoral seminars and held our first tastings at our office at G.M. Dimitrov 54 boulevard . The emotion was great – our visitors were both pleasantly surprised and happy by the great Bulgarian wines they tasted. Through discussions with the audience we also gained knowledge and experience, the motivation was not decreasing, but increasing. The revolution in the wine industry was real, the economic crisis was coming to an end and the future looked more than bright.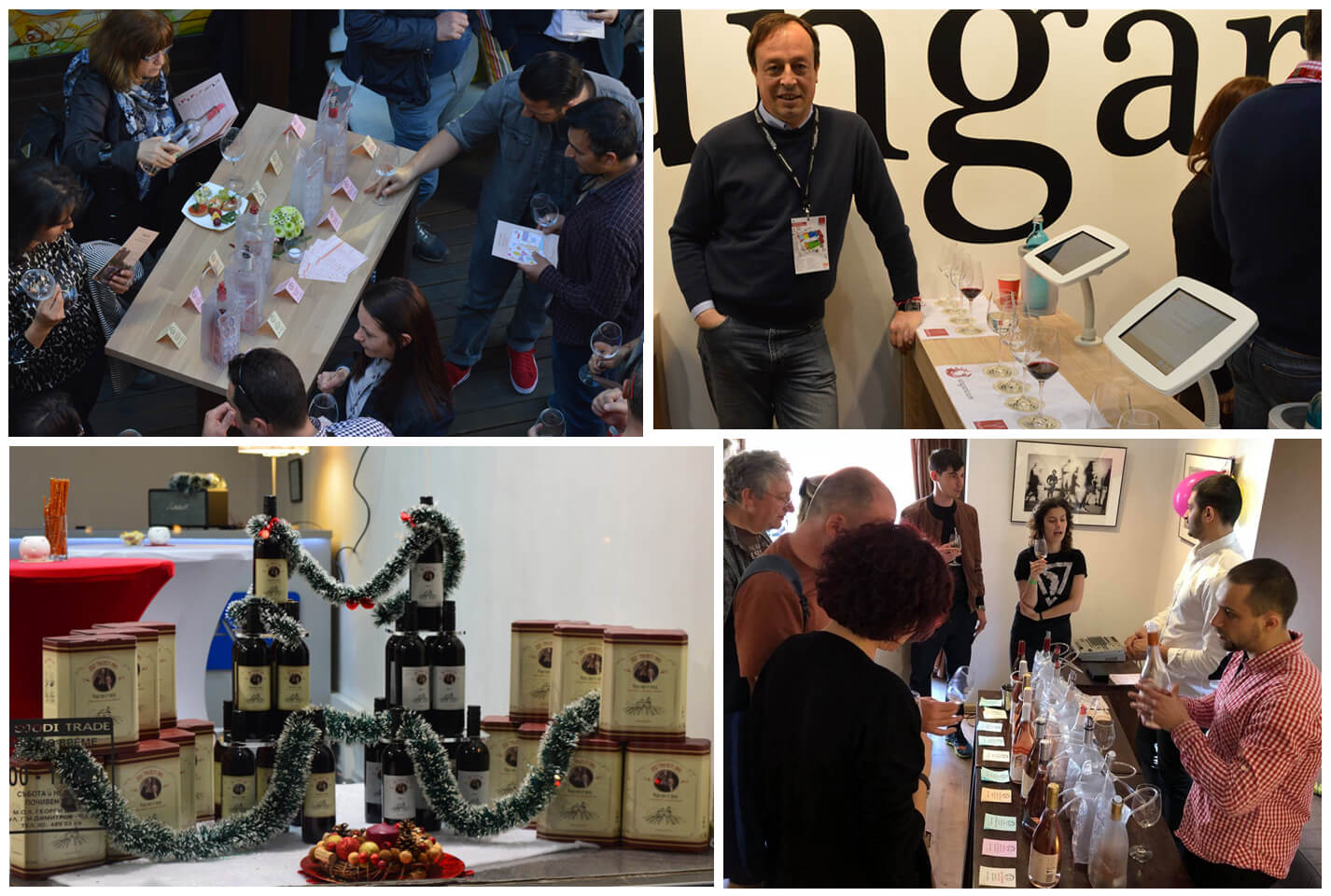 One year and 9 wine tours later – 2015.
/ Prowein visit for second consecutive year /
GREAT WINE IS MADE IN BULGARIA
This year was the first in which with the help of family wine cellar "Bratanov" we vinified our first red wine – Joy of Mavrud, and with other friends from "Villa Yustina" we revived a tradition – "Grandpa Tanyo's" wine from 100% Pamid.
5,970 VISITORS, 420 EXHIBITORS FROM 30 COUNTRIES

In Bulgaria the tendency to drink the organic 100% grapes fermented drink, namely wine, is growing. The exhibition in Düsseldorf – ProWein is gaining popularity, and the participation for the first year of joint stand from Canada brought 64% growth compared to 2014. Indicative is the fact that the market and / or wine lovers are looking for new faces, and what better time than this to demonstrate the new face of Bulgarian wine. In one year we did 9 wine tours, including one in Macedonia and another one in Alsace. Photos can be found in our albums in facebook. We did our second "Rose" tasting, which became traditional. The rose wine were meant to become a mandatory component of every winery's portfolio, and some wineries would even have two rose wines.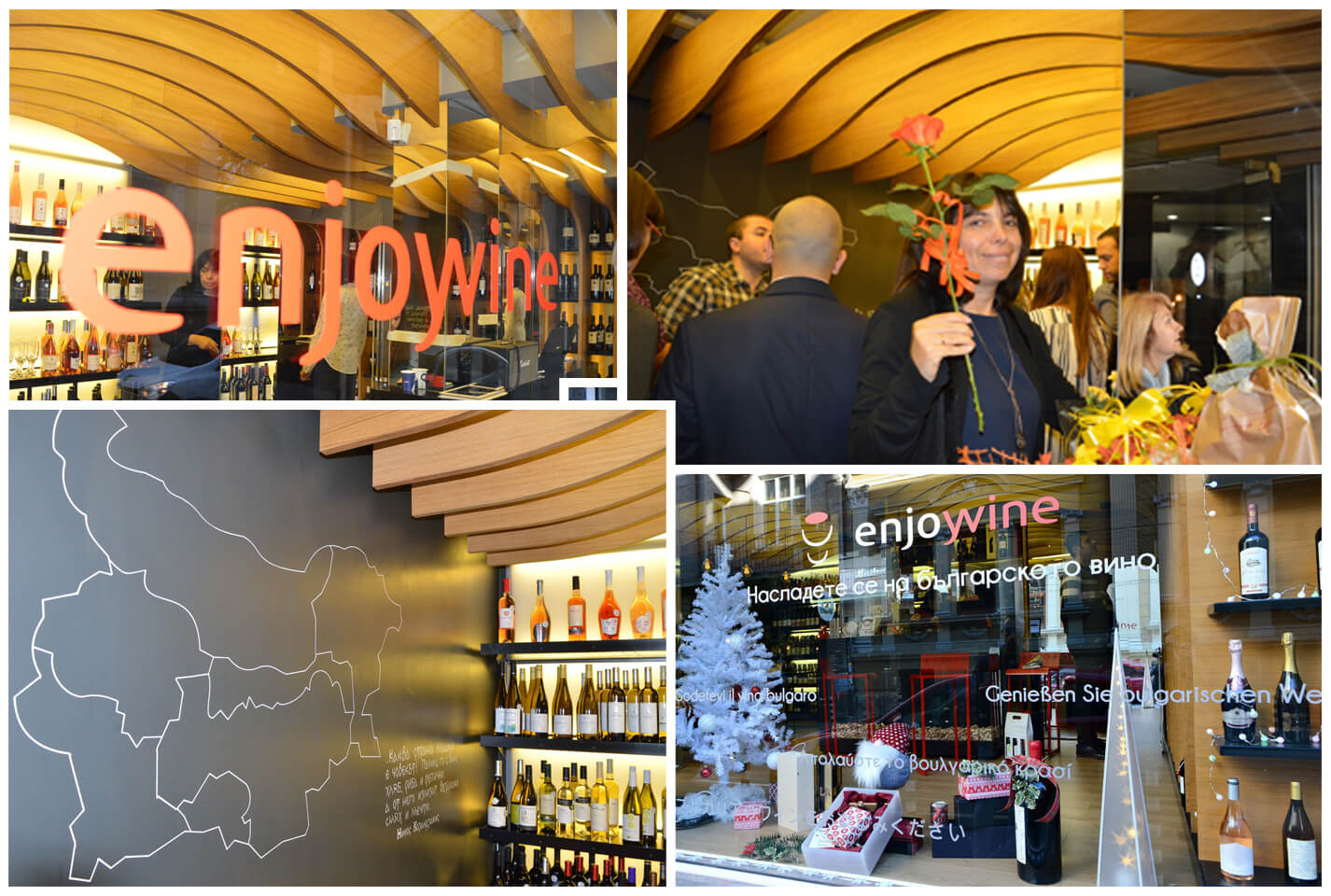 EnjoyWine at Shishman 1 street since 2016
/small, but cousy shop for Bulgarian wine/
"EITHER GIVE ME WINE OR LEAVE ME ALONE " – RUMI

This year we presented with the assistance of "Carabunar" (now Via Vinera) winery the complete JOY series – white and rose from Bulgarian grape varieties – JOY of Dimyat & Misket and Joy of Rubin /rose/. We made the first "Spring wine bazaar" with 22 exhibitors, mainly small family wineries.
On the 1st of November 2016 EW made the next step in the brand development. We believed in the qualities of the Bulgarian wine from the visited wineries and decided entirely at our expenses to completely redisign and rent a space at Shishman 19 street, Sofia center. The custom design was made by familiar architect and the challenging completion was made by the team of EnjoyWine – lead mainly by Eva & Svetoslav Dimitrovi. The start was given appropriately with a tasting. EnjoyWine wines already had their own home, and they were about to multiply. We were to tempt the frozen pedestrians in the winter with mulled wine, and in the hot summer days to offer over 20 species of Bulgarian rose wine. Positive feedback on Bulgarian wine from visitors from abroad could only show us that our efforts were in the right direction.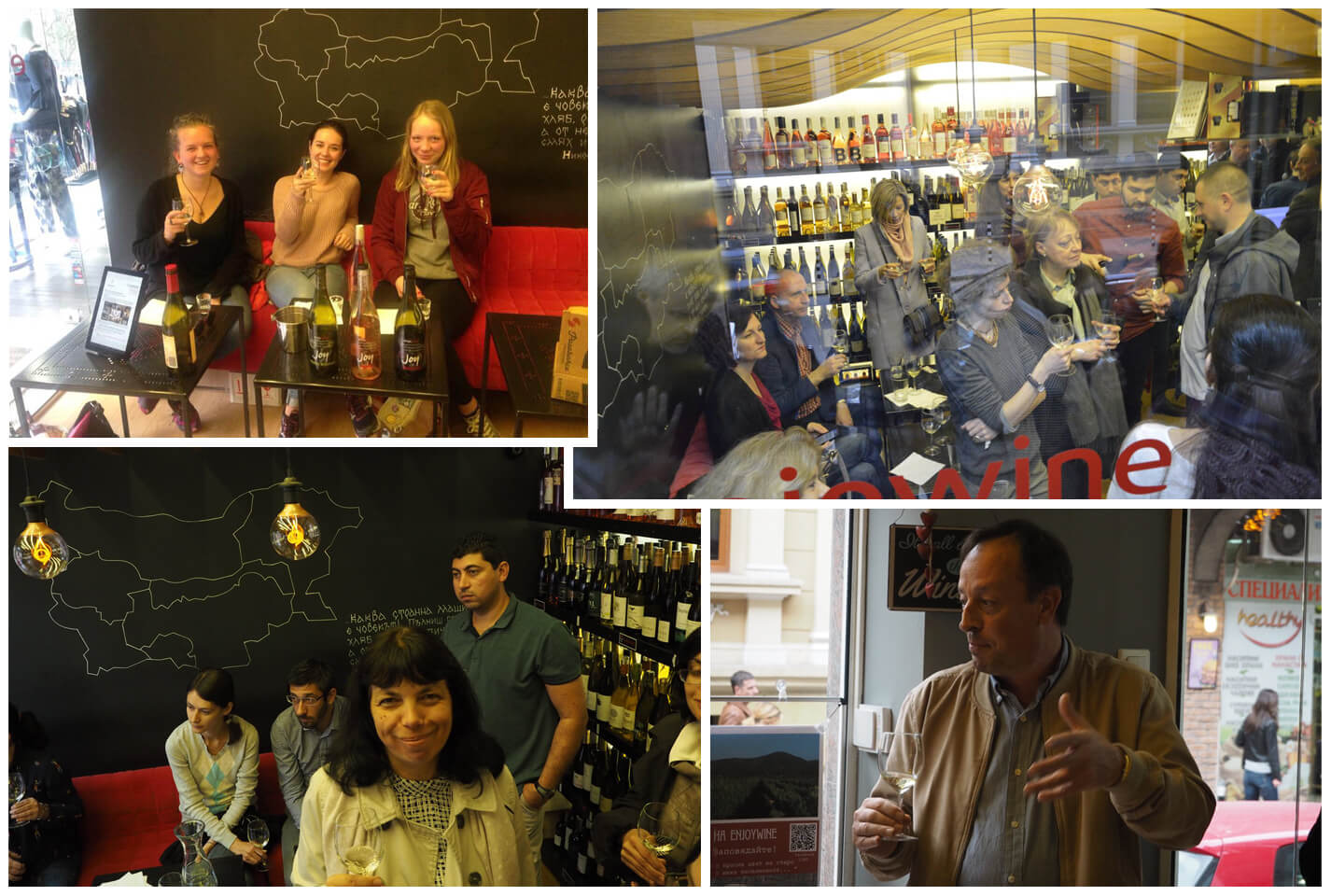 Tastings, tastings – 2018 г.
/over 60 free tastings with visitors from abroad/
12 WINERiES VISITED SHISHMAN 19
In two years we have made a total of over 30 officially organized tastings with wineries, thematic or by request. Only at the tastings we were visited by more than 700 people, and how much wine was tasted… In the summer of 2018 we saw an increase in visitors from abroad by over 200% – for 4 months we did over 60 free tastings, and the reviews were more than positive. We are a family business, and our family always comes first. Due to the death of a close person in the family, my father / Svetlyo / failed to concentrate on wine during the current campaign.
On the other hand, we have launched many initiatives, the fruits of which will be visible in future. Also, time will tell if there will be Pamid "Grandpa Tanyo" from 2018. We will present new wines from well-known wineries and from new wineries that were not present in the store. We will continue to support the small family wineries and organize tastings so that you can try their great Bulgarian wines!
отзиви
This is the perfect place in the city to learn about Bulgarian wines! We really enjoyed our visit with Ilia whose knowledge and customer service made this an experience not to be missed!
If you enjoy wine, this shop is a must-see. We were treated to a Bulgarian wine tasting, where we learned about specific grapes that are indigenous to Bulgaria. It was informative and fun! We bought several bottles to take back to the U.S. The staff is very friendly."
"Warm welcome, I am very pleased with the service in the store and my assistance in choosing the right product. I am impressed with the foreign language skills and competence of the staff, which is rare in Sofia. "
екип
The people behind ENJOY WINE
13 Bulgarian grape varieties
Не пропускай дегустация, абонирай се!